<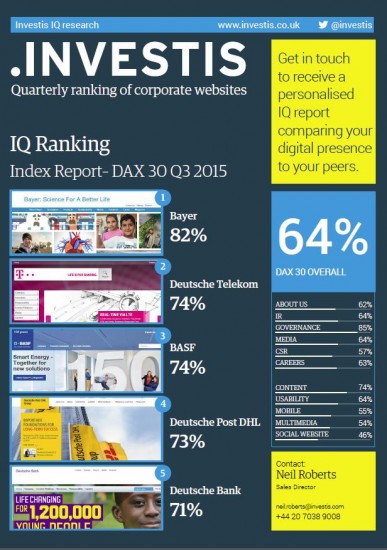 The latest IQ ranking of the corporate websites and wider digital presence of the DAX 30 shows that the index has continued to hold its place at the top of our global rankings.
The DAX 30 is comfortably above global averages in all categories we record, and notably so when it comes to the use of multimedia and social media and with corporate social responsibility (CSR) content.
The index saw modest improvement in the About Us section and around corporate governance. However, with some exceptions, such as Fresenius Medical Care, few companies made significant changes to their corporate websites. However, it should be remembered that the DAX 30 is the highest scoring index globally: significant improvement is difficult when so many companies in the index are already performing strongly.
Generally, companies in the DAX 30 score well – but even though we have seen positive growth, more attention could be given to the use of mobile and to About Us and corporate governance content.
27% of the index fail to explain the role of the board. This is a crucial aspect of understanding how a company is managed and needs to be addressed.
Nearly a third of the index fail to provide any statements about risk. A lack of transparency around a company's approach to risk will raise a red flag to any investor or other stakeholder – and there is little reason why this should not be covered.
93% of the DAX 30 webcast their results – however, only five companies offer video webcasting. This is worth considering as, while more expensive, video webcasting can double the size of a webcast audience. Recent Investis research also shows that 46% of buy-side professionals consider video webcasting to be more useful than audio webcasting.
Half of the index have fully responsive websites while six companies have a dedicated mobile site. Even excusing those companies that have responsive or dedicated site sections, this still means that four companies are failing to cater for their mobile audience at all – an error when a quarter of all corporate site visits come from mobile devices.
More detail can be found in the individual index report, where we also offer a case study of Bayer – arguably the best corporate website in the world.