Despite the wealth of best practice analytics guides available for e-commerce, corporate sites measurement is still a relatively grey area. You could easily find yourself immersed in the 70 reports available on Google Analytics, without drafting any meaningful conclusions.
So how can you use this data to gain effective insight, boost stakeholder engagement and manage your online reputation? It all depends on the nature of your website and business goals, but a typical report should seek to answer the following questions:
1.

What devices does my audience use?
Google Analytics audience reports will help you understand usage of different devices, browsers and screen resolutions. This won't logically be the first stat that most people address but should not be ignored as it reflects on user experience.
Top websites allow users to have a consistent experience across multiple devices. For example, if you find out that most of your investors are accessing your website from a tablet, you might want to use interactive charts in your results centre area, that adapt according to screen size.
User experience can also impact on SEO ranking as search engine tools such as Google now take into account mobile experience for ranking.
2.

Where are they coming from?
'Source/medium' and 'Campaign' are the top reports to help you make informed decisions for budget and content allocation. 'Referrals', 'Social' and 'SEO' should also be looked at to see if you are being effective at driving traffic to your site. 'AdWords' is also something to consider if your corporate site has a B2B area, as 90% of B2B researchers use search engines to research purchases.
3.

Once they land on my website, what do they do?
Key interactions with your website could include:
Engagement with videos
Shared content
Registrations
Downloads
These are "events" in Google's words. In this example, the video banner, buttons and links under "related materials" could all be tracked through the 'Top Events' report.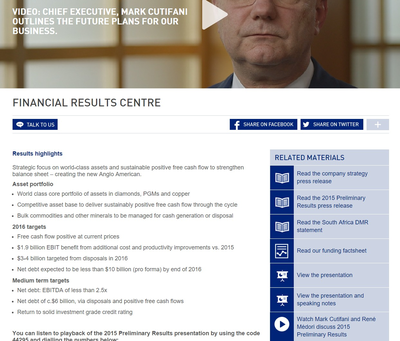 Other practical reports are 'All pages' which provides best and worst performing pages and navigation summary, to help you understand user journeys, identify related content areas, review navigation/signposting, and tell your story effectively. 'Search terms' can also show the keywords that indicate what stakeholders are looking for on your site.
4.

How many of them convert / leave?
Once you define KPIs for your site (or goals, in Google Analytics terms), make sure you configure them to monitor your performance through conversion reports.
Google Analytics allows you to configure different types of goals to track:
Duration of visits
Pages visited per session
Social media engagement
Events
URL destination (successful completion of a process that leads to a final web or thank you page)
Barclays for instance, could configure the below process as a URL destination goal, to track how many users successfully registered for a webcast and dropouts for each one of these steps:
| | |
| --- | --- |
| 1. User clicks on signposting on homepage | 2. Page with webcasts timetable |
| 3. Registration form | 4. Thank you page |
How do stakeholders feel abou my organisatin?
Reports that will help you monitor your online reputation include 'Real-time' (to measure the immediate impact of campaigns, results announcements or crisis situations) and 'Intelligence events' - alerts set up by yourself to track unusual activity on specific pages of your site e.g. high bounce rate or pageviews.
You could also use 'Google Trends' to measure brand awareness, and set up 'Google Alerts' for news related to your organisation and your competitors.
Beyond Google Analytics
With the demand for data growing yet the time to review it increasingly under pressure, companies are turning to more advanced tools that can provide highly in-depth information such as the companies viewing a website or the sentiment and perception related to a brand. Audience Insight from Investis offer provides these advanced services alongside more traditional analytics. Find out more.