While social media channels have shown continued global growth, it appears there is still work to do in terms of getting the IR community on board with using them.
According to the NIRI 2016 Social Media report, three-quarters of surveyed IR professionals still claim they do not use social media for work. And most of them claim the reason is a "lack of interest by the investment community".
What is concerning is that this figure is the same result as NIRI's first survey on this subject back in 2010. This suggests that there has been little change in the mindset of IROs over this period, despite innovation in social platforms and the SEC's announcement in 2013 that listed companies may use social media for disclosures.
Unsurprisingly, those that do use social media for their IR work tend only to use the most common platforms - Twitter, LinkedIn and Facebook. This finding is again consistent with NIRI's 2013 report, and comes regardless of social media developments such as results streaming via Periscope and stakeholder campaigns via Snapchat.
Buy-side skepticism holding back engagement?
In February this year, Rivel Research called up 350 buy-siders and found that there is still some skepticism around the dissemination of financial information via social media channels. When surveyed, only 26% of buy-siders felt that social media channels offered legitimate means of sending information.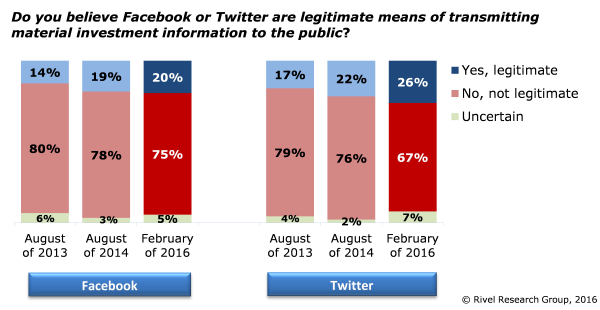 Missing an opportunity
While such sentiment may suggest social media is not worth the time investment, it is perhaps the case that its IROs' attitudes towards social media is contributing to the lack of return from it.
IROs should not ignore these vital channels. Any opportunity to promote your business and investment story to a broad audience for minimal cost should not be ignored.
Social is an important channel for communicating facts and organizational information. Companies can reach large amounts of people in relatively short times, and without requiring them to read in-depth press releases. And time and again, Investis has seen that positive (or indeed negative) social media commentary can have a direct impact on company reputation and share price. So it's better to be on social media to address the conversation than not.
This isn't to say that IROs should abandon all their other platforms, but they should be prepared to put in a little more work to build their strategies. While overnight success is unlikely, it is possible that a consistent effort will gradually build interest and engagement.
If you have any questions about social IR programs or would like advice on your overall corporate social media strategy, please contact us.