Last summer Twitter were the first large corporate to use Periscope to broadcast their results announcement. Whether they would have done so had they not spent nearly $100m acquiring the company a few months before is debatable.
While the platform has been adopted by individuals and some notable brands (Nissan, JCPenney), its adoption among the corporate communications community has been minimal, much like the take up of Snapchat as we discussed last month.
However, one or two pioneering corporates have embraced it. Nordea Bank previously used Periscope for panel debates and on 26 January, they used it to announce their Q4 Results announcement.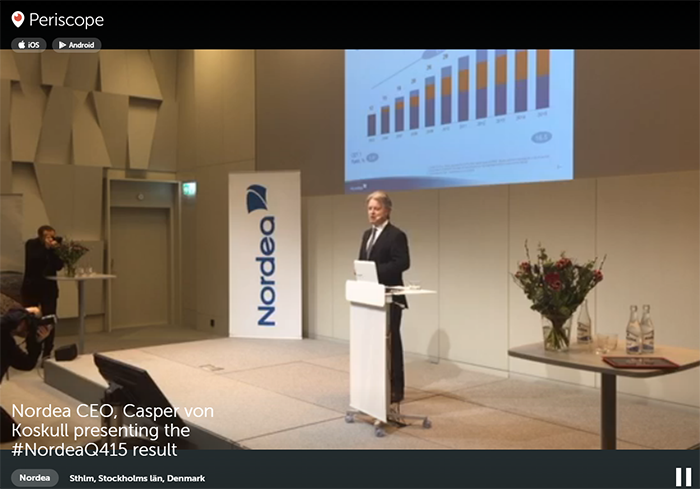 Offered to Nordea's audience alongside a traditional webcast, the event was an interesting opportunity for a comparison of platforms. With the webcast hosted within a bespoke player, viewers were required to login to view it. Though this provided an extra layer of navigation for viewers, it would likely allow Nordea to track their Results audience more effectively.
In contrast Periscope offered one-click access to the Results presentation, potentially attracting bigger audiences. However, this would not have been trackable so at the end of the event the audience would have remained anonymous. Also, while the video quality was fair, the audio was inconsistent and at key times the sound made announcements almost impossible to hear.
At Investis, we are all for adopting new digital communication channels and applaud Nordea for trying. At present it doesn't seem that Periscope will replace more traditional methods of corporate communications for specific audiences.