Frequent any number of large corporate websites and you'll regularly find a section dedicated to media. Sure, it may not have been deemed worthy enough to earn a position on the primary navigation, but you'll still often find it served up alongside the critical investors and careers sections, wherever they may be.
Can't find it? That may be because this section is also commonly referred to as either a "newsroom" or "pressroom." Though naming conventions are flexible, at the end of the day, the primary audience for these sections remains the same: members of the media.
Serving members of the media
In today's fast-paced world of nearly instant communications, journalists and other members of the media no longer have the time they once had to spend digging up stories, capturing quotes, reaching key players, gathering images and video, etc.
These people have stories to author. They have a general idea about what they need. They have a strict deadline. And thus, one of the primary responsibilities of any quality media room is to make a journalist's work as easy as possible.
Your website has an opportunity. Help them shape this story, or risk them shaping their own. And, it certainly does not hurt to have the people putting out a story involving your company, to have had a great experience on your website.
An effective media room
An effective media room provides journalists and the media with access to everything that they might commonly seek out for a story, or at least someone to contact should they be unable to find it. Additionally, newsrooms have become a place to establish yourself as an authority in your industry, through thought leadership articles, blogs, or industry commentary.
Specifically, some of the more common pages or components in this section include:
Latest news (press releases)
Important company facts (press kits, fact sheets)
Thought leadership pieces (blog, industry commentary)
Downloadable images and videos (media gallery, B-roll)
Contact information
Media room examples
JetBlue – Multimedia Library
Journalists are looking for the various images, videos and snippets of your company or industry – provide them with the media assets they need in a digestible format. In the below example, JetBlue clearly differentiates between images and videos that someone may be looking for. In addition, they provide a fact sheet section with all company information in one single location.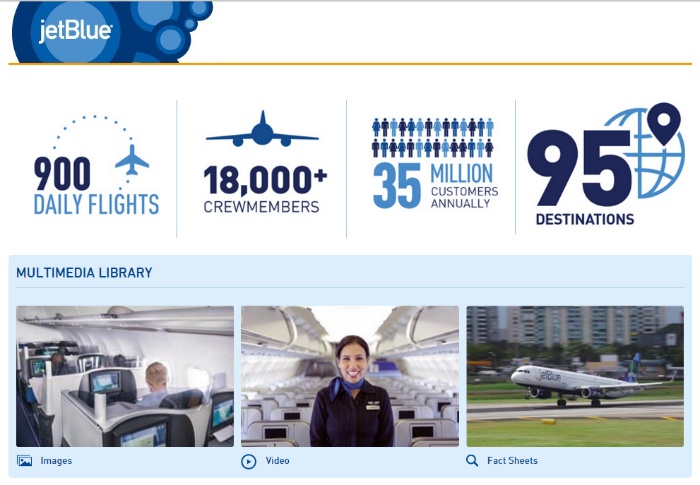 Dick's Sporting Goods – Our Mission
Dick's Sporting Goods wants those visiting their press page to know who they are, what they do and why and who they serve. The clearly do so in their visibly placed "Our Vision/Mission" section.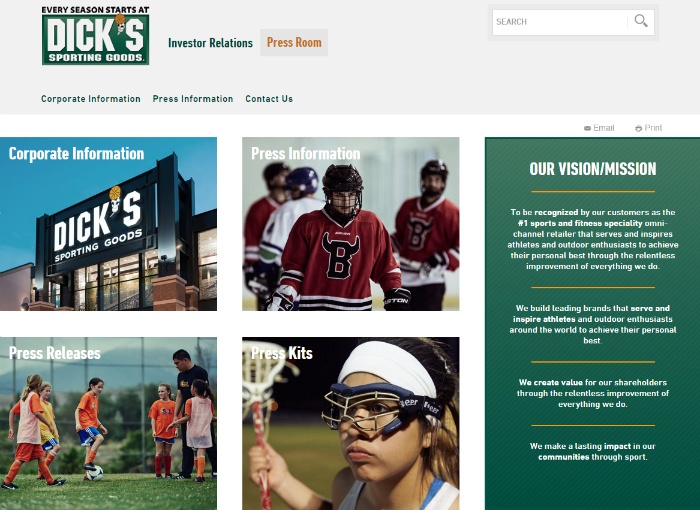 GE – Latest news, social and more
GE has clearly labeled all the media resources, contacts, multimedia and social media streams on their media page. Making it easy for anyone to capture their information.