Facebook has announced that it is to add a live video API to its functionality. Facebook Live, as the feature is known, will allow users of the social network to view live events as part of their news page. In turn, companies will be able to add the functionality to their existing Facebook company page to enable the sharing of content.
The development is reminiscent of Twitter's use of Periscope. Facebook's positioning of Live is somewhat more assertive in the way that live streams are placed at the top of news feeds, allowing users to continue other activity on the platform around this. This will also be the case for Facebook apps on Android and iOS.
While many of the possibilities of live streaming have already been realised through Periscope, Facebook's proposition is interesting for the aggressive targeting of audiences that is being hinted at. Dan Rose, vice president of partnership at Facebook, has said the social network would be willing to pay to gain control of video content. Live video examples that already exist featuring President Obama and celebrities are understood to be being courted for their contributions. Meanwhile, broadcasters should equally be concerned that Facebook could soon be competing for the rights to major sporting events.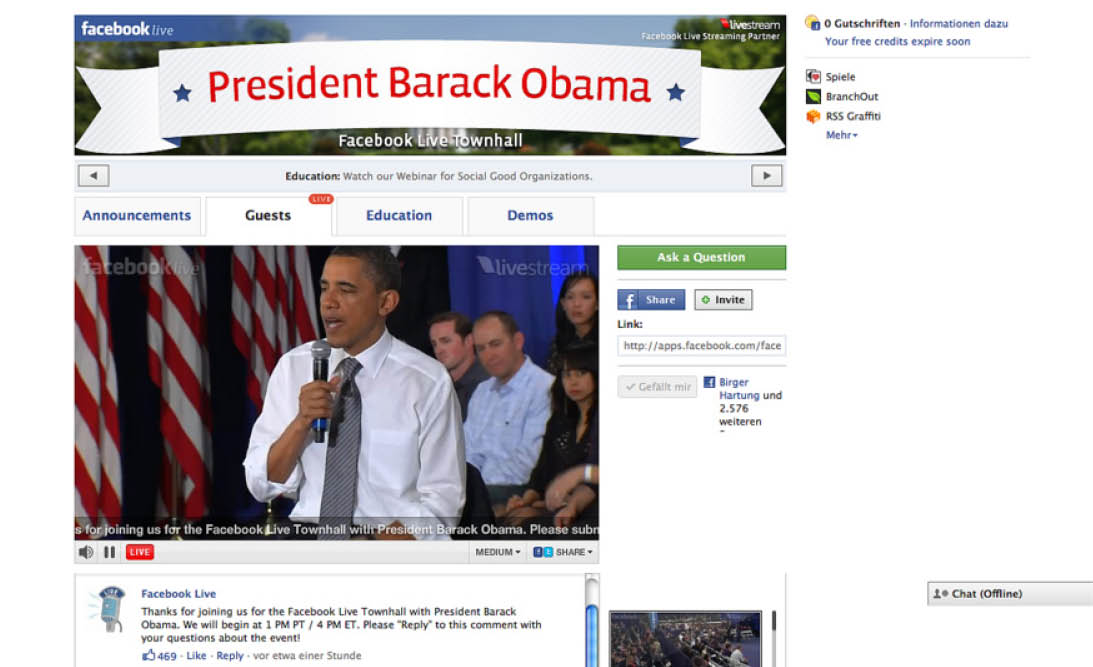 From a corporate standpoint, Facebook Live's functionality holds the potential to conduct budget webcasting (we've already seen companies such as Nordea experiment with Periscope for this functionality). The simplicity of this feature also means that companies could in theory make more live video available for their events. Facebook Live can also be set up so that only certain groups can see the video stream, so you could potentially conduct product demonstrations for an invited audience of clients or give training to certain staff.
Facebook Live functionality also feeds in nicely to Facebook at Work, the social network's enterprise solution that uses Facebook's features as an internal network for a company to share work and ideas. With Facebook Live, a management figure could now update their company on Facebook at Work while they continued to work.
As seen with other live streaming platforms, there are downsides. Webcasting with Facebook Live would likely suffer owing to the same quality issues as Periscope. Where sound and picture rely heavily on a good streaming device and a solid connection and unlike standard webcasting solutions, there doesn't appear to be a way of telling exactly who is watching your video.
There will likely be some novel uses of Facebook Live as it becomes more prevalent and we'll endeavour to comment on them as they arise.