Investis is delighted to announce award success in 2016 Digital Impact Awards. Anglo American, ArcelorMittal and SEGRO were all recognised with awards at an event designed to champion and reward websites and campaigns that make a difference to the communications world.
Anglo American won the gold award for Best use of digital by sector – Extractives, reflecting both on the way the company communicates its business but also how it has innovated with the use of digital.
SEGRO picked up a silver medal for Best corporate website, providing further endorsement to the innovative design of its new website.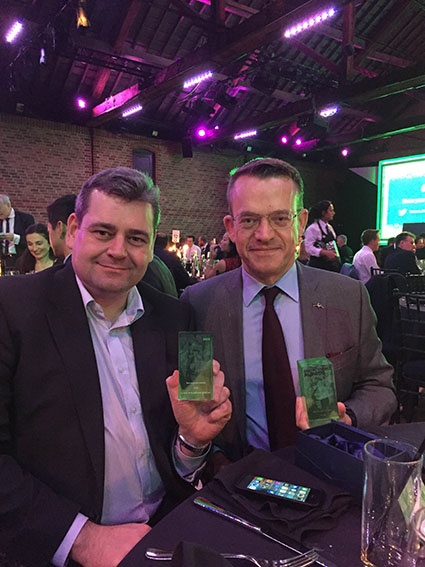 Alex Wodzicki of SEGRO and Ian Louden of ArcelorMittal with their awards
Meanwhile, ArcelorMittal's bronze medal win for the Best online annual report category, acknowledges the company's bold move towards a digital-first approach to reporting.
Members of the Investis team were on hand to celebrate with representatives from each of the winners at the award event, which took place at The Brewery near Barbican in London on 18 October.
The Digital Impact Awards sets the industry-wide benchmark in digital stakeholder engagement, recognising the best corporate digital communications work in Europe.
Andrew Thomas, publishing editor of Communicate magazine which organises the awards, commented that the evening had proved that "communications teams remain committed to creating innovative and inspiring campaigns. This is the content which transcends borders and continues to evolve the digital sphere."
A full list of winners can be found here: http://www.digitalimpactawards.com/winners/