On Tuesday 27 September, representatives from Investis were on hand to help clients SEGRO and Rentokil Initial celebrate award wins at the Corporate & Financial Awards 2016.
In their fifth year, the Corporate & Financial Awards celebrate excellence in communication strategies for the corporate and financial space. The event ceremony took place at The Brewery in London, with awards presented by the BBC's Business Editor Simon Jack.
SEGRO took gold in the 'Best corporate website in the FTSE 250' category, with Rentokil Initial taking the silver award in the same category. Rentokil Initial went on to win in two other categories, 'Best management of corporate & financial media relations' and the acclaimed 'Best in-house corporate & financial communications team'. Anglo American lost out in the 'Best corporate website in the FTSE 100' category but were highly commended for their entry.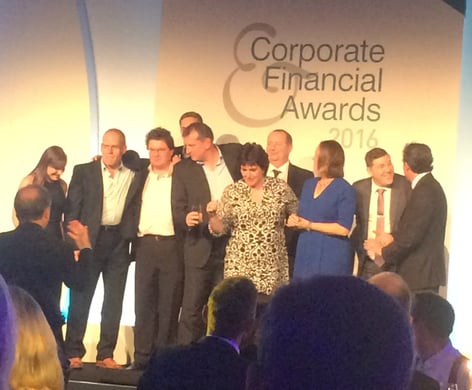 Rentokil Initial collect one of their awards
Andrew Thomas, publishing editor of Communicate magazine which organises the awards, said: "The quality of the 2016 shortlist and winners meant the competition stepped up another gear from previous years." Over a third of FTSE 100 companies and a significant number of FTSE 250 companies submitted entries to the awards.
A full listing of winners from the evening can be found here.