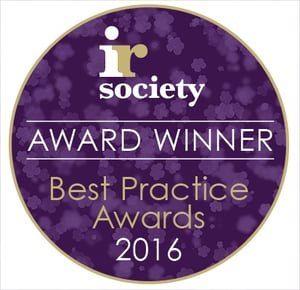 Investis is proud to have celebrated alongside its clients at the 2016 IR Society's Best Practice Awards.
The gala event held at the Tower of London provided a showcase for the year's most impressive IR, digital communications and reporting projects and professionals, and it was a pleasure to be on hand to share in award wins with our clients.
Our warmest congratulations go to Anglo American, British Land, Hays, McCarthy & Stone, Pennon, Shanks and Taylor Wimpey, who all received awards relating to their digital, sustainability and IR communications. Shire, Greg Feehely of ASOS and Charlotte McBride of J Sainsbury were also amongst the winners, recognised for their work in IR.
Opening the night, Chair of the IR Society and Head of IR at Telefonica, David Lloyd-Seed, emphasised the importance of the role that IR now plays both at the C-suite level and across the operation of companies as a whole. Here at Investis this message is well received: the daily conversations we have with our clients reiterate the huge difference that exceptional digital communications can make to how a company is perceived by its core audience groups.
It's for this reason we take particular pride in the fact that our clients were recognised for best use of digital communications for Small Cap & AIM, the FTSE 250 and the FTSE 100. This is an acknowledgement of our ability to deliver award-winning expertise, technology and service for companies at every level – something Investis always works hard to achieve and which we are pleased to have recognised by such a respected organisation as the IR Society.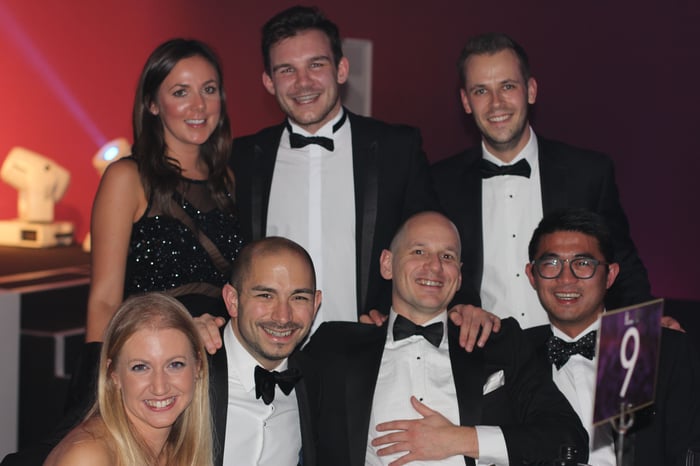 Members of Investis with Helen Cox and Baz Javanshiri of Marks & Spencer and Jonathan Diec of Travis Perkins
While all the evening's award nominees and winners deserve applause (see full list) our special congratulations go to the winners below, many of whom I was delighted to be able to celebrate with on the night:
Anglo American – Most effective sustainability communications – FTSE 100
British Land – Best use of digital communications – FTSE 100
Hays – Best use of digital communications – FTSE 250
Shanks – Best use of digital communications – Small Cap & AIM
McCarthy & Stone – Best IPO IR communications
Taylor Wimpey – Best overall communication of company investment proposition – FTSE 100
Pennon – Best overall communication of company investment proposition – FTSE 250
Shire – Best overall company IR
Sainsbury's – Best IRO Newcomer – Charlotte McBride
ASOS – Best IRO – Greg Feehely